Over the past week we have been watching a developing storm in the Gulf of Mexico. It will bypass us and head toward the Texas coast. Watching the clouds develop in the tail of this storm on radar has me thinking about them; their complexity and our amazement.
Clouds are a phenomenon on earth that simultaneously frighten and amaze us. They are so much bigger than we are and can be harbingers for horrible storms; tornados, lightning, snow, rain, hurricanes. Yet, they are so delicate we fly right through them in an airplane or form delicate fog that we walk through or part in the sky to reveal a beautiful ray of light that we associate with the heavens.
Facts on Clouds
In meteorology, a cloud is a visible mass of liquid droplets or frozen crystals made of water or various chemicals suspended in the atmosphere above the surface of a planetary body.
The type of cloud is determined by its shape and altitude. Because I don't want to bore you with scientific descriptions here is an image of the different types: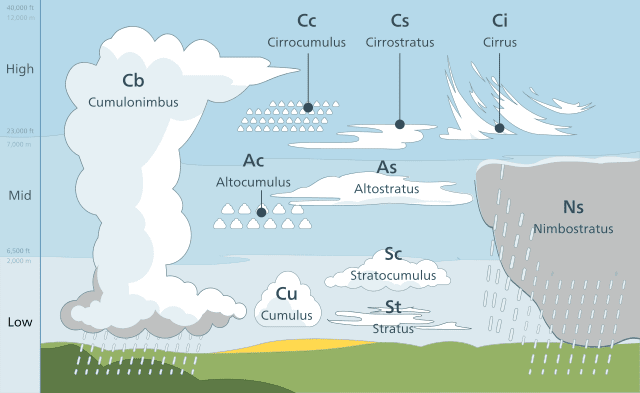 If you would like to learn more about clouds Wiki is a great resource.
Here are some beautiful cloud pictures I found. If you have some pictures of clouds please share them.